spookycute_dollhouse
Wow, I didn't realize it's been just about two months since I last posted here. I've always been sort of inconsistent with keeping up with my "hobby" journals as opposed to my personal one, but I really didn't mean to let things go this long. I kind of lost the entire month of March to being sick, and the weather still has been iffy, but I'm hoping to be a bit more active as the spring and summer months arrive, even if it's just posting pictures talking about various collections and not actual photoshoots/pic fics.
Anyway, since Easter is on the way, today I have a few pictures of my Wellie Wishers dolls having a mini Easter egg hunt. I didn't take all that many, since my camera battery was lower than I realized, and also, it still doesn't look much like Easter/spring outside, but it still felt good to be doing dolly stuff again. My Wellie Wishers always put a smile on my face.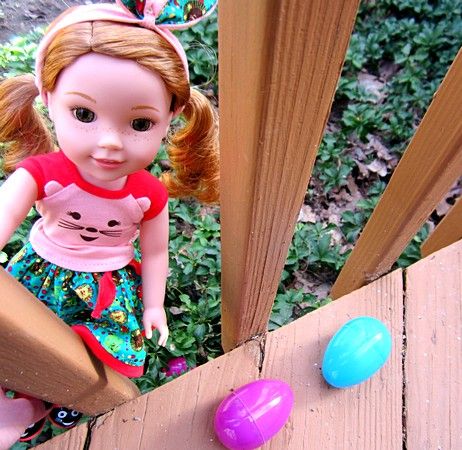 Willa. If ever there was a perfect Easter doll, it's definitely this one. I imagine that Easter is her favorite holiday and she feels about Easter the way I do about Halloween. She waits for it all year long but finds ways to celebrate it every day in the meantime.
Ashlyn. Of course our perpetual princess find some pink eggs. I only wish the scenery were a little brighter.
Emerson. She's tricky to take pictures of at times, because her head sort of permanently tilts back. It was impossible to get her to look directly at the eggs, but maybe she's yelling over to one of the other girls that she found some.
Kendall. So glad I was able to find
some
color in the yard for this pic. I really love how it turned out, and it works with the color scheme of her outfit.
Camille. I think this is my favorite picture of the bunch. I have a real soft spot for Camille. I know she's basically just your typical blue-eyed blonde doll, but there's just something about her. She reminds me the most of myself as a kid out of all the Wellie girls.
Group shot.
And a couple bonus shots of Willa since she's Miss Bunny: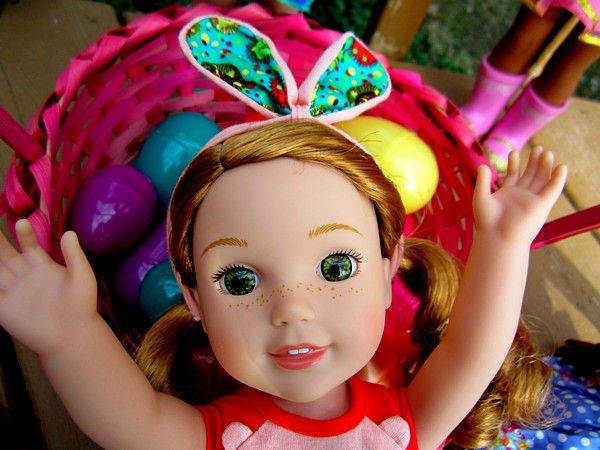 I'm really hoping to expand the wardrobe for my AG and Wellie Wishers dolls this year. Having the Wellie stuff available in stores will probably help quite a bit, although my Target stores don't seem to be getting any of it in. I need
this
by Halloween time for sure. I do wish they had a few more "normal" outfit options but I suppose there's always Etsy.