spookycute_dollhouse
I hate how absent I've been from this journal. I was so excited to create a new one and then I just kind of dropped off the face of the Earth for a bit. Winter is always a rough time because taking outdoor pictures really isn't an option, and the lighting inside has been horrible. It's always either super cloudy, or super bright from the sun reflecting off the snow.
Anyway, I know I mentioned last post that I was considering getting more of the Integrity Toys AHS Coven dolls, and since that post I've actually managed to acquire all of them that are currently available. (Fiona doesn't seem to be in stock anywhere and they keep changing her official release date.)
These pictures are from Instagram, so I apologize if you've seen them already, I just have no real way of taking "real" pictures right now.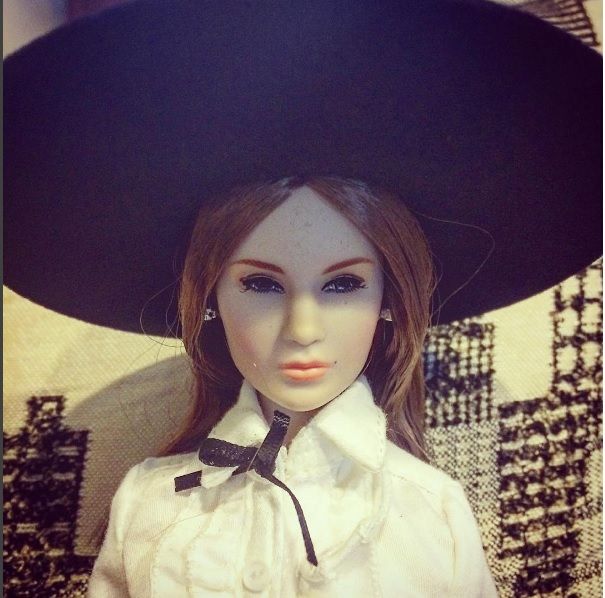 First up, Zoe. She actually surprised me by becoming the doll I wanted most, besides Myrtle, after seeing owner pictures of her. I honestly think she's one of the most beautiful dolls I've ever owned, and I love how perfectly she captures the AHS Coven aesthetic. If you watch the
cast trailer
from Coven, it's easy to see that her look is the most iconic. I've heard a lot of people say that the likeness of this doll to her character is off, but I think she looks pretty decent. She seems a teeny bit older looking to me, but not so much that I'd mistake her for anyone other than who she's supposed to be.
And here we have everyone's favorite witch bitch, Madison Montgomery. Fun fact about me: Madison was the character that first really drew me to AHS, because I remembered Emma Roberts from an old show on Nickelodeon that I loved as a teenager, Unfabulous. And even if you've never watched AHS, I guarantee you that you know Madison, because I know everyone's seen this gif before:
hehe. Anyway, Madison is a beautiful doll and, it's hard to convey in pictures because her eyes seem very tiny, but she really does look just like Emma Roberts in person. The likenesses of these dolls to their characters really are spot on.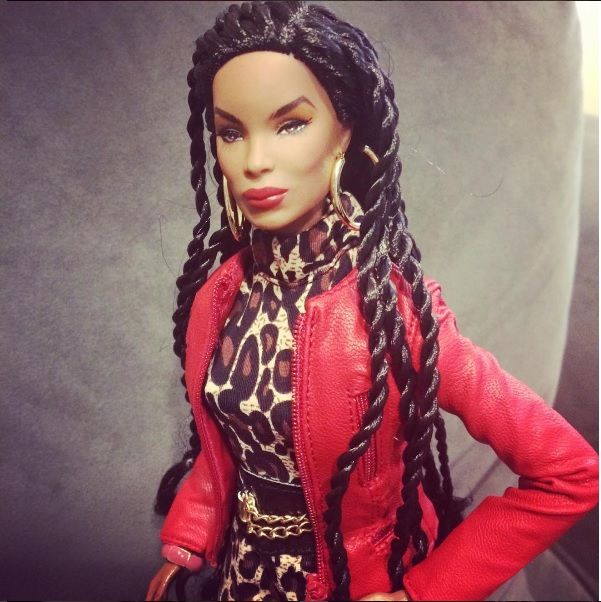 Marie Laveau, Voodoo Queen of New Orleans! I kind of wish they'd chosen a different outfit for her, but I still love her. Unfortunately her necklace broke before I could even get it out of the packaging and I haven't been able to fix it because I don't have a baby who's also a jewelry repairman on hand (You wouldn't believe how tiny this stuff is in person!) but I'm not super fussed over it. She looks great regardless. She was sort of an impulse buy and I'm really, really glad I was able to get her. Only thing you should know if you're getting this doll is, her head will most likely tilt back a bit due to the weight of her hair. It's really not noticeable, though.
And finally, the only guy of the group, Kyle. Kyle was actually a Valentine's Day gift because I'm always iffy about buying boy dolls. It's a weird quirk I've had since childhood; my mother would often tease me for not wanting any Ken dolls. But anyway, I knew I'd regret it forever if I somehow missed out on him so when my boyfriend offered to get him for me for Valentine's, I had to say yes. How many girls can say their boyfriend would buy them Evan Peters, right? lol (I'm actually not one of his fangirls, though. I like him a lot as an actor and think he and I would be friends if we knew each other, but I'm not into him in the way much of the rest of the fandom is.) I have to say, I am absolutely blown away by how much this doll looks like Evan Peters. I mean, all of the likenesses are great, in my opinion, but I really think he may be the most spot-on. Also, he's got some amazing quality clothes. Really glad I didn't decide to skip him based on my weird dislike of boy dolls.
I really hope Fiona is released soon so the set will be complete. And then we wait with crossed fingers in the hopes that they'll make Misty someday.